Main Characters:
1. Anju - A Fiancée engaged to get married by Arranged Marriage, Deceived into physical relationship and then Dumped & Harassed
2. Sandeep Sexena- The playboy fiancé con-artist
3. Madhu Sharam -The Connected Live-wire lawyer (???Lawyer, Liar and Deceiver)
-----------------------------------------------------
Date of writing: 14 March 2010
Date of Editing: 14 March 2010
-----------------------------------------------------
I, Anju, am an educated girl staying in Mumbai (and a native of Bihar) was engaged to be married by an Arranged marriage to a gentleman Sandeep Sexena in Jun 2008. After my engagement, my fiancé had physical relationship with me since the day of engagement.
But in Oct 2008 , his mother and henceforth the entire family got together and plotted and and cancelled the marriage after humiliating me and my family .
This was similar to a Terror attack by Terrorists on me.
Picture: Terror attack in Mumbai
After nearly committing suicide , I gathered enough strength to start legal service and sent a legal notice (because as per the Indian constitution, having physical relation on the promise of marriage amounts to Rape (article 376) ).
But instead the other party , having a very cunning lawyer sent back a legal notice putting false charges on me (like I keep threatening them to ask for money) etc.
Later they relented and the lawyer tried to meet me in person/talk to me to have an out of court settlement .
But, later I realised she was just misguiding me , with distorted facts like how the case doesn't stand a chance as the person has already been married (which was a lie).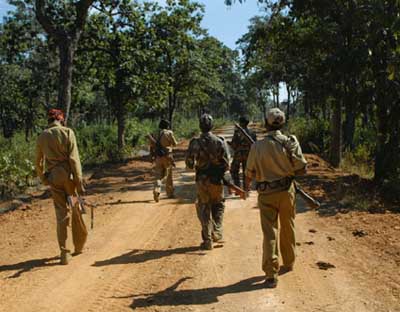 Picture: Policemen hunting Maoists in Muzaffarnagar, Bihar

She also hinted in subtle tones that since she has her uncle in high ranks in Kolkata police (where the parents of my fiancé live) , things could be moulded differently.
Am I a Maoist or a Terrorist, that I have to be threatened by a Bloody raving MAD 'Matrimonial Lawyer' who is threatening to Cow me down using her Decorated Police uncle in Kolkata?
The last decorated Police Officer from Orissa/Andhra Pradesh was running away from the law, after colluding with his son who was accused of rape of a foreigner in Goa.
Later she got abusive and started attacking me personally with statements like "you have 30 boyfriends", "you are characterless" , "you are a cheap psychopath, who needs psychiatric treatment ", "you blackmail people, extort money" etc.


I was broken down completely, alone and harboured suicidal thoughts during this traumatic harassment.
Then one day when I was watching the Ruchika Gihrotra case on TV, I decided that it is time that women spoke up against injustice. Women are always taught to keep shut about any injustice, especially sexual abuse and it only gives the men and their counterparts more power to do the same injustice again and again. I have studied that as per Supreme court and Delhi high court, if a man has sexual relationship with a woman on the promise of marriage it will be treated as "Rape Charged :- Article 376. As it was his parents, especially his mother who initiated the marriage call off procedure, they should be booked against
I was shocked and filed an FIR against her , and more so being a lawyer she is not supposed to talk to me or say personal things to me.

I think its time , someone spoke about this and did something against such people .

The name of the lawyer is Madhu (aka MAD) Sharam , who is apparently fighting a case for a sexually harassed victim (Female) in a Live-in relationship.
This lady lawyer is a Human Rights Association member.
How can lawyers like this abuse their positions of Power, when they are actually LIARS, DECEIVERS and CRIMINALS?


Therefore, I request all you bloggers to please help me in my fight against injustice (against the highest eschelons of POWER from LAWYERS, LIARS and POLICEMEN).
-------------------------------
'Voice of Women' presents the BIOGRAPHY OF A WOMAN DECEIVED INTO LIVE-IN RELATIONSHIP BY HER 'FIANCÉ' AFTER PROMISING TO GET MARRIED.

Inspired by the success of the 'Chronicles of a Battered Abused Discriminated and Disadvantaged Fatherless Girl-child'----A FIANCÉE has come forward with her "Testimony of a Fiancée Deceived into a Physical relationship and then dumped".

This TESTIMONY brings to LIGHT the Strenuous circumstances of WOMEN, who are facing deception from 'CHARMING MEN' promising marriage.

The core issue of the Biography is to look for Solutions for "Deception and Promise of marriage by MEN to engage into Physical relationships" in our Homes, Community, Society and the Corporate World. The solutions include Counseling, Healing, Family Forums and other Alternative Counseling Forums.
---------------------------------------------------------------------
Disclaimer: The Story is told in the first person narrative by the "Fiancée engaged to Marry".

For reasons of confidentiality, please don't assume the identity of the 'other characters in the story- namely the Bigamous husband'. The entire story has been placed in custody of certain well-wishers. Names and identities of characters have been masked and changed to protect their identities. Let us call the name of the FIANCÉE as 'Anju'.

Images used are only representative of the story.

Strong Legal action will be taken in Bangalore jurisdiction, against all those who claim to resemble or know the identity of any characters mentioned in this Biography.

Events are true and character sketches are disguised to protect their identities.
----------------------------------------------------------------------------
Copyright © 2009 Roshni Pereira and "Anju, A fiancée, deceived into a physical relationship by a Con-artist".