7 of family fell prey to 'rapist' tantrik in Mumbai: 7 teenage girls raped, 1.5 crore Rupees misappropriated
Nov 30, 2010
http://www.dnaindia.com/mumbai/report_7-of-family-fell-prey-to-rapist-tantrik-in-mumbai_1474245
http://ibnlive.in.com/news/rs-15-crore-recovered-from-rapist-tantriks-home/136170-3.html?from=tn
http://www.dnaindia.com/mumbai/report_tantrik-rape-sisters-didn-t-tell-each-other_1474771
http://www.ndtv.com/article/cities/tantrik-arrested-for-raping-mumbai-teens-69309
Shocking details have emerged from the interrogation of a tantrik, arrested on charges of raping several girls.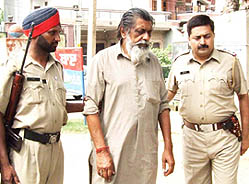 Another Tantrik booked by Police in Jalandhar
He has been booked under Sections 376, 504 and 313 of the Indian Penal Code among others that charge him with rape, causing hurt, causing miscarriage and criminal intimidation.
Officers of the JJ Marg police station arrested Mehndi Kasim Sheikh alias Bangali Baba on Sunday. The 37-year-old has told the police during preliminary interrogation that he had repeatedly raped seven girls, not three as reported in some newspapers, between May 16, 2009 and November 11, 2009. His victims are aged between 13 and 25, an officer said.
The police have sent all the victims, four minors, to the police hospital in Nagpada for medical tests. "We are waiting for the reports," the officer said.
The police arrested Sheikh based on 18-year-old Akila Khan's (name changed) complaint at the MRA Marg police station on Sunday.
She told the police that Sheikh, who used to teach the Quran to her brother and two cousins (all mentally challenged), had raped her.
Her mother, she said in her complaint, had appointed Sheikh as their teacher. He gained the trust and confidence of the family by assuring them that he would get rid of an evil spirit and cure the three mentally challenged boys. The officer said that he told the family that there would be wealth and prosperity in the house once the boys were cured.
Khan told the police Sheikh had warned her mother that if he could not perform black magic on the girls, they too would have mentally retarded children. Her worried mother and aunt then started sending their daughters to his flat.
The Khans had given their flat to Sheikh on rent so that he could teach their children the Quran and also perform black magic, the officer said. His black magic involved giving them some syrup, which made them drowsy, and raping them, Khan said in her complaint.
"He threatened us and told us not to reveal to anyone what he did to us," she said. "Most of the time, he abused us and slapped us." When her two sisters became pregnant, Sheikh got the pregnancies terminated, she said.
The police have questioned Khan's aunt too. She told the police that she knew Sheikh since 2002. In 2005, he promised her that he could cure her son. Believing him, she and her sister sent their children to him, she told the police.
The truth came out when Khan told her father about Sheikh on November 23. After this, the family decided to lodge a formal police complaint on November 28. Though they filed a complaint at MRA Marg police station, it was transferred to JJ Marg as the incident happened in its jurisdiction. Sheikh will be in police custody till December 3.