N D Tiwari's no to DNA test could lead to presumption he is father: HC
Sep 23, 2011
http://timesofindia.indiatimes.com/india/N-D-Tiwaris-no-to-DNA-test-could-lead-to-presumption-he-is-father-HC/articleshow/10093646.cms
NEW DELHI: The Delhi high court today ruled that veteran Congress leader N D Tiwari cannot be compelled to give blood sample for his DNA test to determine a city youth's paternity but said his persistent refusal can lead to the presumption that he is his father.
"Tiwari cannot be physically compelled or confined for submitting a blood sample for DNA profiling to implement its December 2010 judgement," conceded Justice Gita Mittal while deciding 85-year-old Tiwari's plea challenging the December 23, 2010, order of the high court which had asked him to give his blood sample for DNA test.
Referring to Tiwari's persistent refusal to give his blood sample as per the court direction, Justice Mittal said "the refusal by Tiwari to submit blood sample is willful, malafide, unreasonable and unjustified. Such refusal is taken on record."
Justice Mittal said "the impact of this refusal by Tiwari while evaluating the evidence produced by parties, ...may be treated as corroborative evidence leading to the presumption that the result of DNA profiling of the defendant's blood sample would have supported the plaintiff's (Rohit Shekhar) claim (of being Tiwari's biological son)."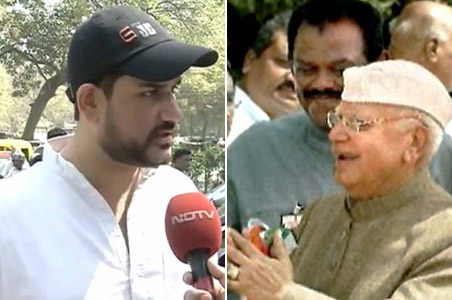 "The conscious and emphatic refusal clearly suggests that Tiwari does not wish to run the risk of providing the plaintiff with the evidence that would establish his case and is malafide. The refusal of the respondent(Tiwari) displays no good reason but bad faith," said Justice Mittal, disapproving of Tiwari's attitude.
The court, meanwhile, said plaintiff Rohit Shekar should have made his mother Ujjwala Sharma too a party in the case as her blood sample was required for DNA test.
The court further said even B B Sharma, to whom Ujjwala got married, should also have been a party in the case.
Tiwari had on June 1 refused to appear in the high court dispensary to give his blood sample for DNA test to ascertain Rohit Shakhar's claim of being his biological son, saying he cannot be forced to do so.
On a paternity suit by Rohit, a single-judge bench of the Delhi high court had on December 23 last year asked Tiwari to undergo the DNA test for ascertaining the veracity of his claim that he is Tiwari's biological son.
Refuting Rohit's claim, Tiwari had challenged the high court's single-judge bench order before its division bench which too had rejected his appeal, following which he had gone in for a second round of appeal to the apex court on February 28.
But the apex court had on March 14 refused to stay the high court's order for his DNA test. However, in a relief to him, the court said the result of the test will not be made public unless it is required.